Community Concern for Cats is an all-volunteer cat rescue organization that strives to make a positive difference in the lives of homeless and abandoned cats in Contra Costa County. This is your local community resource and information center for homeless and free-roaming cats. We rescue, spay/neuter, medically rehabilitate, and help to find them safe and loving homes. You can make a difference by fostering, adopting, and donating to CC4C. If you need assistances, you may also leave a voicemail on our CC4C Hotline at 925-938-CATS (2287), which is checked several times per week.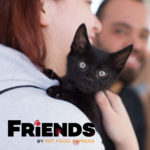 Friends by Pet Food Express will donate 4% of your purchase
Pet Food Express has launched a new way to donate to our organization directly. You will SUPPORT our work with 4% of every purchase coming back to us. To help make this a success SHARE the link with your friends!
Weekend Adoptions are Back!
CC4C has opened a Weekend Pop-Up Adoption Site, every Saturday & Sunday, 1-4 PM, near our Rescued Treasures Thrift Store at: San Miguel Shopping Center, 1250 Newell Avenue, Walnut Creek — near Dunkin Donuts. Reminder: During COVID19, adoptions are not being held at our regular adoption sites (PETCO in Walnut Creek, Pet Food Express in Pleasant Hill, Pet Food Express in Lafayette and Pet Food Express in Concord).
COVID-19 "Remote" Adoptions
If you are interested in a particular cat, please contact the sponsor/foster listed on the cat's posting directly. Or email [email protected] with the cat(s) you are interested in, your contact information including City of residence, and what you are looking for in a cat. You can download and complete an Adoption Application.