Community Concern for Cats is an all-volunteer cat rescue organization that strives to make a positive difference in the lives of homeless and abandoned cats in Contra Costa County. This is your local community resource and information center for homeless and free-roaming cats. We rescue, spay/neuter, medically rehabilitate, and help to find them safe and loving homes. You can make a difference by fostering, adopting, and donating to CC4C. If you need assistances, you may also leave a voicemail on our CC4C Hotline at 925-938-CATS (2287), which is checked several times per week.
Weekend Adoptions are Back!
CC4C has opened a Weekend Pop-Up Adoption Site, open every Saturday & Sunday from 1-4 PM, near our Rescued Treasures Thrift Store in the San Miguel Shopping Center, 1250 Newell Avenue, Unit H, Walnut Creek — near Dunkin Donuts. Adoptions are also held at (2) Pleasant Hill at Pet Food Express, 2158 Contra Costa Blvd., on some Saturdays, from 2-4 PM; and (3) Martinez at Pet Food Express, 500 Center Avenue, on some Saturdays from 2-4 PM. For Pet Food Express schedule please text Lea at 707-372-1841.
Reminder: Adoptions are no longer being held at our old adoption sites: PETCO in Walnut Creek and Pet Food Express in Lafayette and Concord.
Remote Home Adoptions:
If you are interested in a particular cat, please contact the sponsor/foster listed on the cat's posting directly. Or email [email protected] with the cat(s) you are interested in, your contact information including City of residence, and what you are looking for in a cat. You can download and complete an Adoption Application.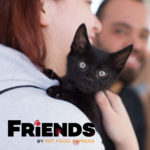 Friends by Pet Food Express will donate 4% of your purchase
Pet Food Express has launched a new way to donate to our organization directly. You will SUPPORT our work with 4% of every purchase coming back to us. To help make this a success SHARE the link with your friends!