Donate Goods to our Thrift Store Rescued Treasures
Community Concern for Cats operates a thrift store, Rescued Treasures. We accept furniture, gently used clothing, books, dishes, crystal and glass ware and much more—and all are tax deductible! 100% of the proceeds go to benefit Community Concern for Cats! Drop in and visit, check out the items and the many promotional sales throughout the year.
Rescued Treasures (one block east of Whole Foods)
1270-I Newell Avenue, Walnut Creek 94596
(925) 937-3201
Donate Supplies
To donate supplies, please bring them to one of our adoption sites on the weekends or to Rescued Treasures. Or to make other arrangements please e-mail or leave a message at 925-938-CATS.
Donations (cat related) are needed including:
Cat food (wet and dry) (new or opened)
Kitten formula (KMR) – Only chicken and turkey meat
Baby food (for transitioning bottle babies)
Quality litter (new or opened)
Humane Animal traps (prefer Tomahawk 2-door type, cat or raccoon size, or squirrel-size for kittens)
Cages for recovery or taming, such as foldable dog crates, jump cages, etc. (prefer min 36″x24″)
Pet chip scanners (to help verify ownership)
Carriers
Kitty condos, scratchers, and cat furniture
Blankets, towels or yardage of Fleece or Berber fabrics
Cat toys and cat beds
Donations (business related) are needed:
Veterinary services, especially spay/neuter or specialty surgeries
Sponsors for quarterly mailings
Professional services (copy work)
Donate through Friends by Pet Food Express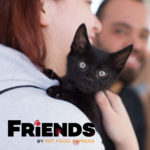 Make a donation with every purchase! Pet Food Express has launched a new way to donate to our organization directly. Shop. Support. Share! Pet Food Express will donate 4% of sales back to CC4C when you buy online with this special shopping link: https://petfood.express/?p=CCFORC
Employer Matching Gift Program
Does your employer have a "donation matching" program? If so, please think of CC4C.
Donate Through a "Qualified Charitable Distribution"
For people who are age 70½ or over that have an IRA and wish to donate to a registered non-profit 501(c)(3), you can make a qualified charitable distribution or QCD. These distributions are paid directly from the IRS to a qualified charity, can be counted toward satisfying your required minimum distributions (RMDs) for the year, and exclude the amount donated from taxable income, which is unlike regular withdrawals from an IRA. You can check with your CPA or tax advisor, and here is more information from the IRS, https://www.irs.gov/publications/p590b.
Donate Property for Feral Cats
Do you have a farm or ranch or a couple of acres next to your home? Can you provide a safe, enclosed, protected home for a few ferals? If so, please contact us.
Donate a Car
If you have a used car that you would like to donate to CC4C, you can do it through Car Donation Services:
https://www.cardonationservices.com/7/donate-a-car-Community-Concern-for-Cats/
Donate BART Tickets
Got any leftover BART "tiny tickets," those with a nickel or a dime left? Mail them to:
CC4C
P.O. Box 3795
Walnut Creek, CA, 94598
Donate through eScrip
Electronic Scrip Incorporated (ESI) is a California-based corporation dedicated to establishing relationships between commerce and community. CC4C is a participating member of eScrip, which raises funds through everyday purchases made at eScrip merchants. eScrip has hundreds of merchant partners that reward customer loyalty by contributing a percentage of purchases to your chosen group.
To donate to CC4C through eScrip:
Go to eScrip at http://www.escrip.com/
Log on and go to "Sign Up"
Designate our group to receive contributions – our Group ID is #500017005
Register your grocery club card and debit/credit cards
Then visit eScrip merchants to shop!
Renew with eScrip every year – it's only good for one year, unless you renew!