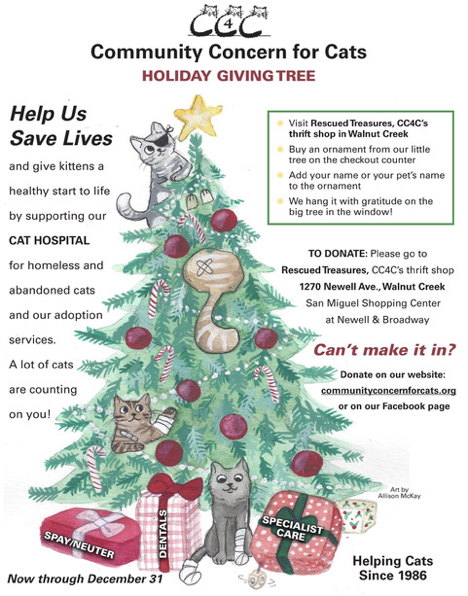 You will find them in rickety sheds, near restaurant dumpsters, in dark parking lots trying to find the injured cat or kitten that some good Samaritan has called in about. Those are the members of Community Concern for Cats, an all-volunteer, 34-year-old cat rescue organization which rescues homeless and abandoned cats from neighborhood streets.
Contra Costa residents can be good Samaritans themselves by providing life-saving medical care for homeless and abandoned cats in their neighborhoods through the annual "Holiday Giving Tree" fundraiser sponsored by Community Concern for Cats.
All funds raised will support CC4C's cat hospital in Clayton which provides spay/neuter surgery to help prevent cat overpopulation. It also provides routine medical services and surgeries needed to heal broken bones, injured eyes and other maladies which cause pain, and suffering to so many helpless cats and kittens. They also give kittens a healthy start to life.
Currently, the "Holiday Giving Tree" is decorating the window of Rescued Treasures Thrift Shop, their delightful upscale thrift store in Walnut Creek located at 1270 Newell Ave. in the San Miguel Shopping Center.
From now until December 31, shoppers may purchase an ornament from their little tree on their checkout counter. Add their name or their pet's name to the ornament. Then have it hung with gratitude on the big tree in the window filling the tree with signs of community compassion for homeless and abandoned cats and kittens.
Donors can also contribute to the Holiday Giving Tree by going to their web site communityconcernforcats.org and its Facebook page or by sending a check to them at P.O. Box 3795, Walnut Creek, CA 94598. All donations are tax-deductible.
CC4C is funded on donations from the public, profits from their thrift shop and occasionally by grants.
So far this year, CC4C has treated 3,326 in their hospital and found homes for a whopping 645 cats and kittens. The hospital is currently open four days a week, performing 20-25 spay/neuter surgeries a day plus numerous exams on ill cats.
"There is a great need to be open for a 5th day of spays and neuters, and well- pet exams; but, that won't be possible until we increase our funding. So please make donating generously to Community Concern for Cats part of your holiday tradition," urged Gemma Osendorf Boyd, CC4C president. "It will save so many precious lives and prevent a lot of suffering."
Community Concern for Cats' adoptions now take place virtually because of Covid-19. Go to their website and look for the list of cats available for adoption then contact their sponsors. They will lead you through the next steps in meeting the cats and making them your own.
Community Concern for Cats' website is an extremely helpful resource for people who are looking for information on cats, such as bottle babies, lost pets, what to do when you find kittens, low-cost spay and neutering options and a lot more.
Community Concern for Cats' Holiday Giving Tree Fundraiser is ongoing through Dec. 31 at its Rescued Treasures thrift shop, 1270 Newell Ave. in Walnut Creek. Their Giving Tree painted on the window is adorned with ornaments from individuals showing their compassion for abandoned and homeless cats. Help provide life-saving health care by supporting CC4C cat hospital and adoption services.