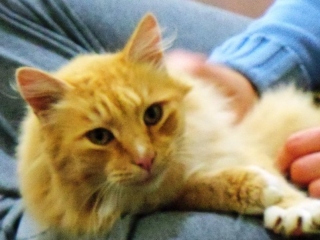 While trying to trap two other unfixed cats out in a field, a CC4C member instead trapped this beautiful big boy who had been hiding down inside a storm drain. She took him home and he immediately wanted to be petted and rubbed. The kitty was malnourished and alarmingly thin and dirty (nasty ticks!). Of all the strange coincidences … two weeks after being trapped, a co-worker approached his foster-mom at work with a couple "cat questions" because she'd never had a cat before but was thinking about it. Luckily for Simba, she took Simba home that same night and now his new owner says she's been converted into a "crazy cat lady" she adores him so much (Although, if you only have one, you truly can't be a crazy cat lady!).
Update from December 2012: I still keep in touch with my co-worker, now retired, and she recently e-mailed this to me:
Two years ago, this evening, my mom came to see me.  I was one lucky cat & she took me home that night.  I still hate the car.  You knew that I was "perfect" for her.  She spoils me…I deserve it.  Thank you, Dana, for taking me to you house.  I didn't really like  living in a field.
Luv, Ari (aka Simba)
Update from December 2013:
Happy Anniversary to Ari.  Hard to believe it was three years ago that I was looking at an orange cat that was sitting under your coffee table.
Thank you Dana for being "the cat lady" that talked me into getting a cat.  He's such a love, a bit spoiled I must admit.  He brings me so much happiness!