The deep satisfaction that comes with rescuing homeless, abandoned, and at-risk cats comes when you finally find the perfect match for their adoption. It happened to me this weekend.
Two months ago I received a desperate phone call from one of my fosters. She told me the family across the street from where she worked had two litters of pit bull puppies (15 puppies in all) along with a mother cat who had a litter of kittens, and eight of the kittens had just been killed by the pit bulls. The last remaining kitten was weak, thin and vulnerable due to the dogs and the mama cat was showing signs of extreme stress having just lost her kittens. Thankfully, she was able to convince the owners to give the mama cat and kitten to her, since they were clearly overwhelmed with the dogs and had been very negligent with the cats—and proceeded to bring them to my house to begin their needed medical treatment and recovery.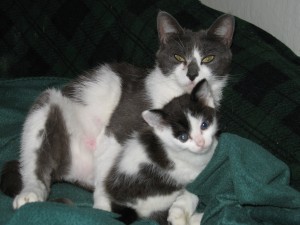 That night when they arrived, the 4-week-old kitten was severely dehydrated, vomiting, and flea infested. Not able to stop her vomiting and knowing she was losing fluids quickly, I raced both mama and kitten to the Sage Emergency Care Center in Concord, located very close to my house. In my early years of fostering kittens, I knew how incredibly vulnerable they were, and how their health can take a turn for the worse rapidly. In emergency, the kitten was quickly examined, received subcutaneous fluids, a Parvo Snap test and a PCV/TS blood test for anemia and red blood cell counts, plus was given an injection of Anzemet to stop the vomiting and relieve the nausea. The kitten's red blood cell count was an alarming 40 percent of normal, plus she was badly anemic from a flea infestation. Mama cat was given the FIV/FeLV Combo Test to screen for feline immunodeficiency virus (FIV) and feline leukemia virus (FeLV)—fortunately the results were negative, which was a great relief. So nine hours later, both kitten and mama were signed out and came home with me, again, where they were to begin their rehabilitation in my upstairs bathroom.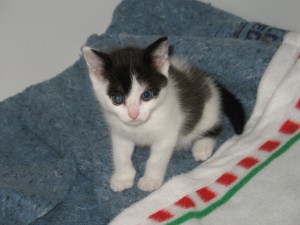 The next week I maintained a laser focus on addressing kitten's lost red blood cell count with intensive 2-hour syringe feeding of KMR; daily subcutaneous fluids for hydration; syringing Immune Plus three times daily to stimulate the immune system; syringing an herbal powder mixed with water for nausea and stomach distress; and deworming and defleaing. Within four days, kitten went from lifelessness and listlessness to the pure joy of running, jumping, playing and leaping onto her mama's back. Once kitten turned this corner, she immediately began eating wet food and returned to nursing, and promptly started gaining weight—a good sign! It was a miracle to watch this transformation and a pleasure to witness kitten's amazing healing and recovery.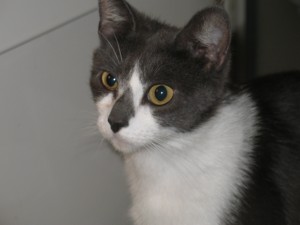 Through the week, I observed mama cat's right eye was constantly draining and causing her discomfort. Taking her to the vet, she was given a corneal eye stain to check for corneal abrasions and damage, and was given a blood chemistry panel and a PCR Upper Respiratory Test to check for Bordetella, Chlamydia, Calicivirus, Herpes 1,influenza and Mycoplasma—all that could cause her eye problems. So for the next two weeks, I gave her daily prescriptions for Terramycin and an anti-inflammatory eye drop, which was repeated for another two weeks by her 2nd foster. When mama's eyes were finally clear, and her tearing stopped we took them to their first adoption weekend—two long months after beginning their care and rehabilitation. Last week, I took mama cat to be spayed, and under anesthesia, her right eye tear duct was examined, but the vet discovered they were unable to clear it due to extensive scar tissue from chronic upper-respiratory illness when she was younger. Undoubtedly due to not being given the proper FVRCP vaccine protocol and being outside.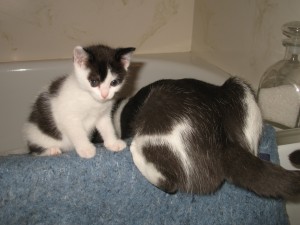 Mama cat, now named Sabrina—and kitten now named Simone—were adopted yesterday at adoptions by a wonderful, loving couple that had lost their two cats last year due to old age. They patiently waited a year before adopting another pair, and fell in love with mama and kitten, who are inseparable and deeply bonded.
On Wednesday, I will drive Sabrina and Simone to their new home in Alameda, and say my last good-byes to them. I'm sure I will cry as I walk away as they have touched me with their special beautiful souls and loving spirits, but I will be incredibly happy for them as they begin their new life and adventure filled with people who will love them, care for them, and provide for them with a safe, healthy, happy home. I could not ask for more for the two of them, and they deserve this.
All cats and dogs deserve a safe, loving, caring, healthy home that will be committed to them for their entire lives till their natural death. So when we find a good adoption match for the cats in our temporary care, we feel a sense of relief but we also feel deep honor to have met these special cats that enter our lives and a profound gratitude in knowing them.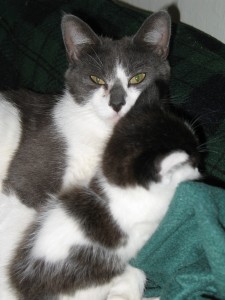 Bless you Sabrina and Simone, and here's to many wonderful years ahead in your new home!
By Jennie Richards, CC4C member
From: www.homelesstohousecats.com blog