Get $25 off our adoption fee on the perfect cat! Celebrate this Valentine's Day, by finding your perfect best friend. Come see our sweet Valentines this weekend, February 11th and 12th, from 1 – 4 pm, at our three adoption sites, where two are better than one!
To sweeten the deal … we will be serving yummy cookies!
Our adoption sites include:
Lafayette: Pet Food Express, 3610 Mount Diablo Boulevard, Lafayette
Pleasant Hill: Pet Food Express, 2158 Contra Costa Boulevard, Pleasant Hill
Walnut Creek: PETCO, 1301 South California Boulevard, Walnut Creek
CC4C's cat adoption fees include: spaying or neutering, all vaccinations, deworming, leukemia testing, microchipping, and lifetime advice. President of CC4C, Gemma Osendorf-Boyd says, "This is quite a bargain, because you can't even get a cat spayed for this price in the private sector."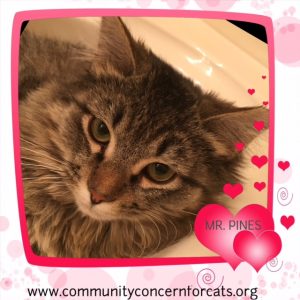 It is recommended that you bring the whole family down to select your Valentine cats because you will want to make sure that everyone is happy with the choice before you adopt. Remember, adopting two cats together is always encouraged because cats like to have a buddy for company when you aren't home.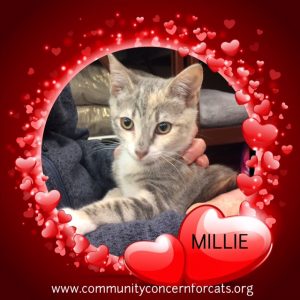 30-year-old Community Concern for Cats was selected the Best Rescue Group for 2016 by Diablo Magazine. "One of the reasons for this is that we foster our cats in our homes. Therefore, we know our cats' personalities and temperaments and can help you select the ones that would fit your lifestyle," Gemma adds.
See our adoptable cats under our Adoptions tab. Just click on the cat photo to learn more about each cat.
Happy Valentine's Day!